About
The Menurkey is a menorah shaped like a turkey. An amazing conversation starter, an objet d'art, a functioning menorah and the perfect centerpiece for your Thanksgiving table, the Menurkey will fascinate for years to come.
The unquestioned symbol of the phenomenon which came to be known as "Thanksgivukkah," the Menurkey was conceived of, designed, and named by then 9-year-old New Yorker Asher Weintraub after he learned that in 2013 Hanukkah and Thanksgiving would overlap for the first time in over a hundred years and not again for over 77,000 years. Raising nearly double their funding goal on the crowdsourcing website Kickstarter, Asher and his family produced and sold thousands of Menurkeys and were featured on the cover of the Wall Street Journal as well as countless other news and TV outlets, including the NY Times and the Today Show. The interest in our turkey menorah was capped off by a visit to the White House, where President Obama hailed Asher's "ingenuity and creative spirit."
Fulfilling his desire to use the Menurkey as a force for good, Asher and his family committed a percentage of the Menurkey profits to charity, handing out over $13,000 to 13 charities ranging from the World Wildife Fund to the Coalition for the Homeless. In April of this year, Asher was given the 'Disruptive Innovation Award' by the Tribeca Film Festival, which "celebrates those whose ideas have broken the mold to create significant impact." Recently, the Jewish Museum of New York announced the Menurkey would be permanently displayed in their unmatched menorah collection.
The Menurkey Backstory
Asher thought of the idea and the name for the Menurkey on a long car trip to Florida, when his mom told him that the two holidays would be on the same day. He says one of the reasons he thought people might like to have a turkey menorah was because the holidays were similar – because in some way both commemorate being 'thankful,' and both were times we spent with our families. Asher used Tinkercad, a 3D modeling platform, to make the first sketches of the prototype: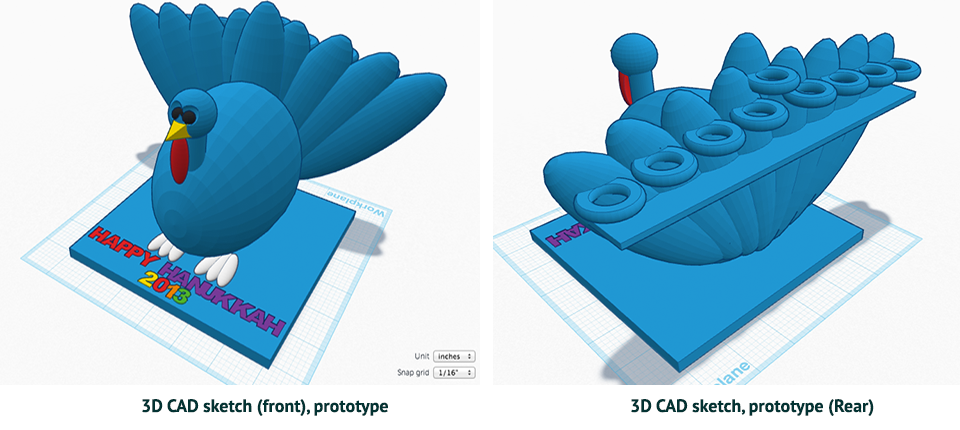 That's when we asked for some help from our friends at Makerbot Studios.  They printed out the prototype for us: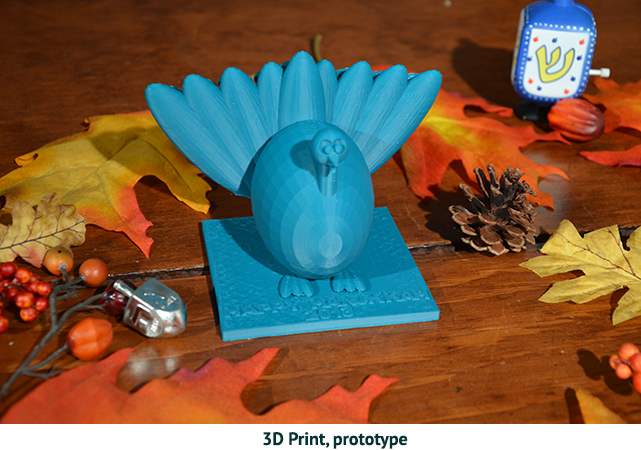 Next we found a great ceramic artist, Connie Smith of the Etsy shop doters(http://www.etsy.com/shop/doters).  Using Asher's design, Connie adapted our first prototypes for the Menurkey in plasticene, showing two different exterior textures: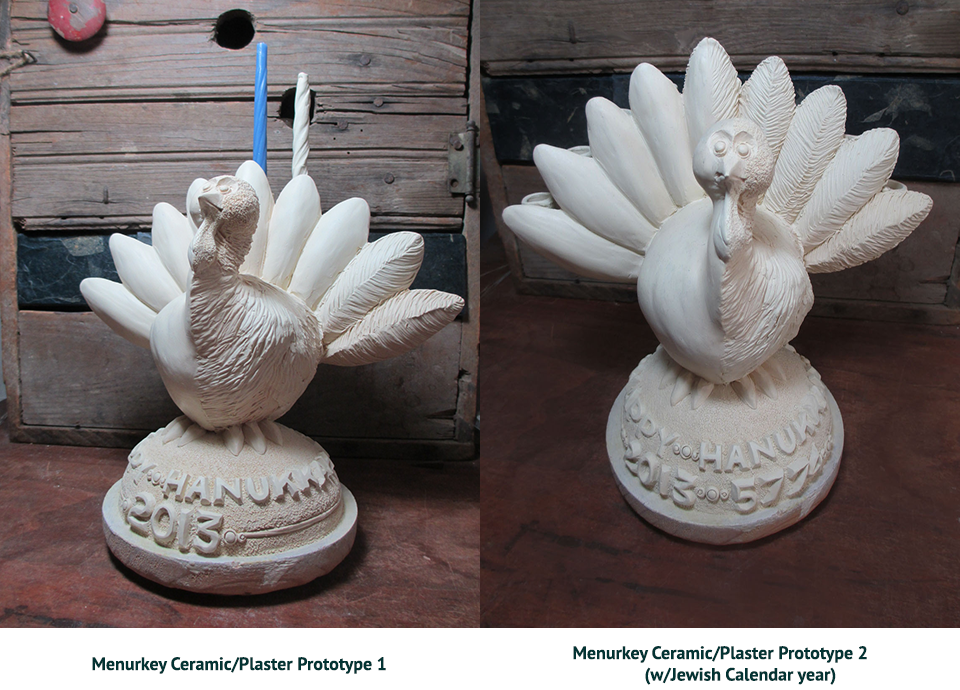 We made some adjustments and ended up with our final design, which we produce in both plaster (white) and ceramic (white, blue) editions.
The Menurkey Team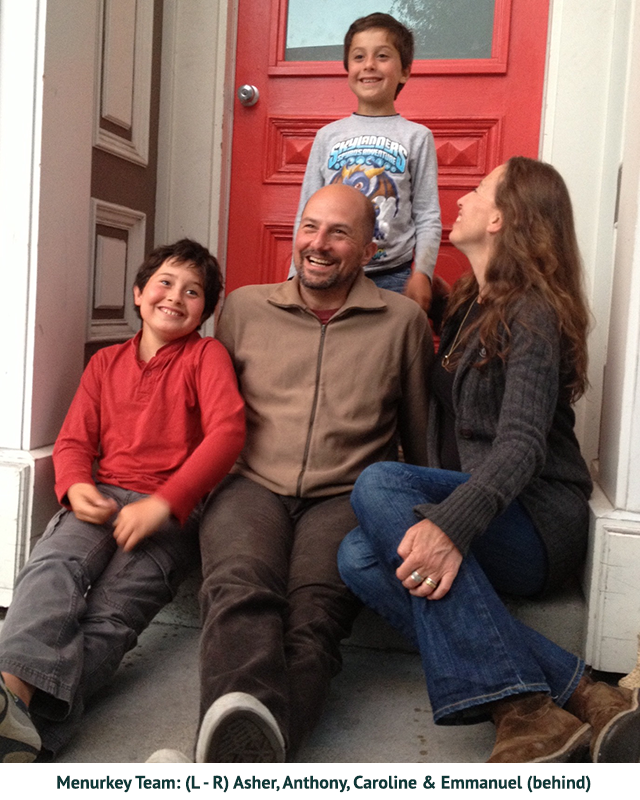 Asher Weintraub (CEO, Creator and Designer)
Asher is an inventor and aspiring video game designer who also loves to read and play golf. He is currently in 5th grade.
Caroline Baron & Anthony Weintraub (Co-Presidents, Co-Parents)
Filmmakers and content creators by trade, Caroline and Anthony help facilitate Asher's vision, assisting on such things as product and logo design, website creation and sales. They also make sure Asher gets to bed on time.
Emmanuel Weintraub (Vice-President, Chief Quality Control)
Emmanuel is Asher's seven-year-old brother and is a stalwart supporter of Asher's, providing a crucial second opinion on all things Menurkey. He can often be found playing Minecraft with Asher.
Special thanks go to our extended families and our intrepid production heads – Belinda at Plaque Art Creations (plastercraft.com) and ceramist Connie Smith (Etsy store – http://www.etsy.com/shop/doters)
Thanks also goes to the amazing folks at Kickstarter, Makerbot Studios, videographers Bliss Holloway, Hisham Abed, and Abner Willis, Stephen Jacobs and our friends in the Dirty Sock Funtime Band, Kendall Haney, Emma Thatcher, and Nancy Diamond.
The Menurkey Mission
 What began as a way to encourage one of our son's ideas has grown into a mission – to bring a smile to people's faces and as a great way to discuss these two holidays in which we're thankful for all we've been given. An amazing Thanksgiving candelabra, a menorah, a way to bring the two Holidays together, and a unique collector's item – what could be better?
Like us on Facebook (www.facebook.com/menurkey)
Follow us on twitter (www.twitter.com/menurkey)
Check out our Pinterest (http://pinterest.com/menurkey)